K9 Nation is a free app for UK dog owners, providing a directory of great dog walks, a marketplace of dog-friendly products and businesses, as well as a community of other dog owners providing insights and recommendations. You'll also find events, discounts, educational content and regular updates.
To download the app for free today click here: https://k9.onelink.me/LHt3/20ccee72
In the beginning…
Way back in September 2017 Becky Baker, the founder, was inspired to create the K9 Nation community when she got her 8-week-old puppy, Buddy the Cockapoo. Feeling overwhelmed and frankly, a bit lost she was constantly looking for information relating to caring for Buddy and how to incorporate him into her busy life, and there just wasn't anything out there for her to easily access everything she needed in one place.
Fast forward 4 years and the K9 Nation App is now available on both iOS and Android devices and there is a team made up of avid dog lovers, and professionals, who share Becky's passion and vision for what K9 Nation stands for.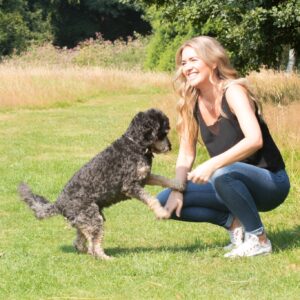 Mission
K9 Nation is built on the love for all dogs and a belief they are members of our families. They are the fastest-growing dog owner social network and marketplace, dedicated to supporting new and existing dog owners in caring for their dogs.
Created by dog owners for dog owners, K9 Nation is setting out to provide impartial and transparent advice, all in one easy to access digital location. K9 Nation is full of information on various topics of interest to enable every member to make informed choices for their dog's wellbeing as well as their own.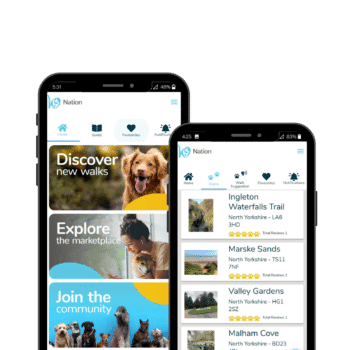 What does the K9 Nation App do?
K9 Nation understands that dogs and dog owners come in all shapes and sizes and all have different needs. The App has a whole range of features providing something for everyone, so whether you are looking for inspiration for your next big weekend walking adventure or looking to find other local dog owners in your area to connect and arrange a walk, K9 Nation is there to support you. Below are some of the main features explained:
K9 Walks – You can find fantastic dog walks up and down the country with information about facilities and reviews from other dog owners. Once you've tried a walk yourself, you can leave your own review to help other dog owners.
K9 Nearby – Perfect for planning a day out with the dogs, the Nearby feature lets you find dog-friendly businesses close by to dog walks and events.
K9 Marketplace – The finest dog-friendly businesses can be found in the K9 Marketplace. You can find contact information, details about products and services, and discounts exclusive to K9 Nation users.
K9 Community – Engaging with other dog owners has never been easier! By setting up a profile for yourself (and if you like, your dog), you can engage with other members of the community on the newsfeed. Share pictures of your pooch, recommend walks or businesses or get advice from other dog owners.
K9 Events – From dog shows to festivals, K9 Events shows all the dog-friendly events near you and up and down the country. You can find information about the event and the pricing, register your interest and find tickets quickly and easily!
K9 Articles – Providing dog owners with a place to find educational content, our articles are sourced from experts in their fields. Subjects range from dog behaviour to grooming and we produce new content regularly.
To download the app for free today click here: https://k9.onelink.me/LHt3/20ccee72