This is 'Fig' short for Figaro. He is an 8-week-old English Cocker Spaniel (show type). He is Chocolate Roan in colouring and at the moment has the most beautiful blue/grey eyes with brown flecks. This may change though as he gets older.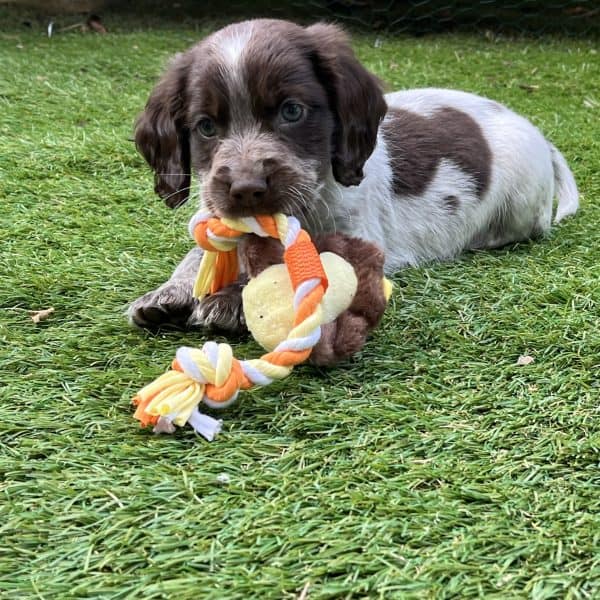 So now he's here and it's all got very real I thought as the Co-Founder of Pet Rebellion it might be a good time to document our journey with Fig as part of our young family and the joys, worries and discoveries we make together. So, as he sits here beside me, barking because he wants to play (and me with one eye always on him to detect the sniffing that means – quick, he's going to wee) we'll come up with topics that will interest anyone else who has recently taken delivery of a puppy.
Our History with Dogs
Ray and I have experience with dogs – before meeting he had a German Shepherd, and following her, he got a Leonberger – Hugo. I had shown and bred Shetland Sheepdogs as a child/teenager and was part of the KCJO (Kennel Club Junior Organisation) and the JHA (junior Handlers Association) growing up and had regularly shown dogs all over the country and at Crufts and Richmond.
Hugo was just over a year old when we met and started dating. Then when Hugo was about 5 or 6 we got a Golden show type Cocker Spaniel who we called Albert.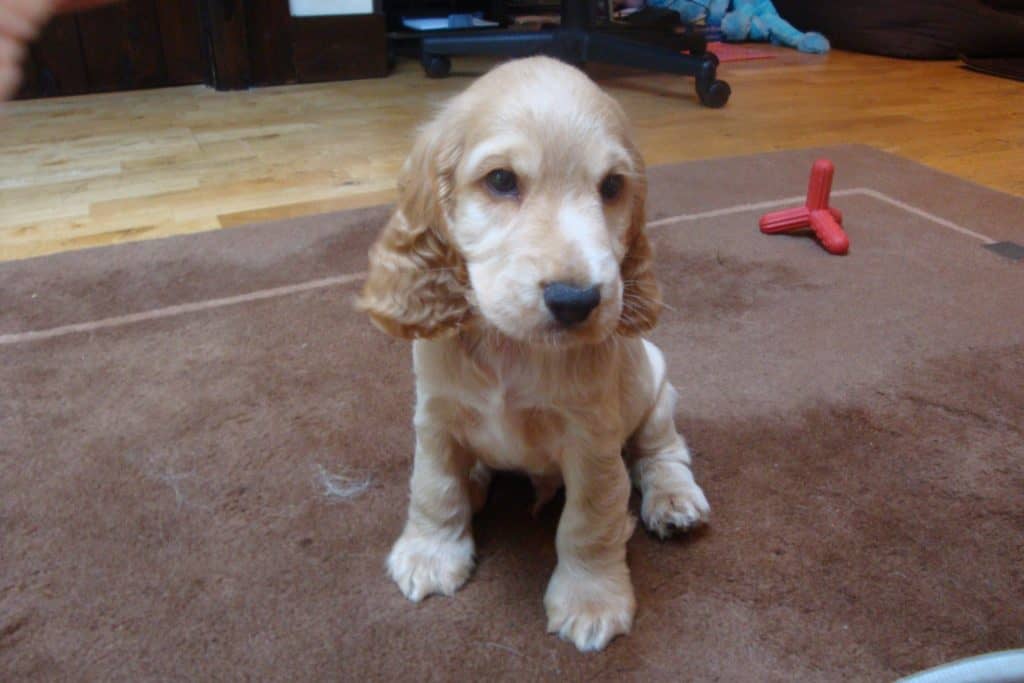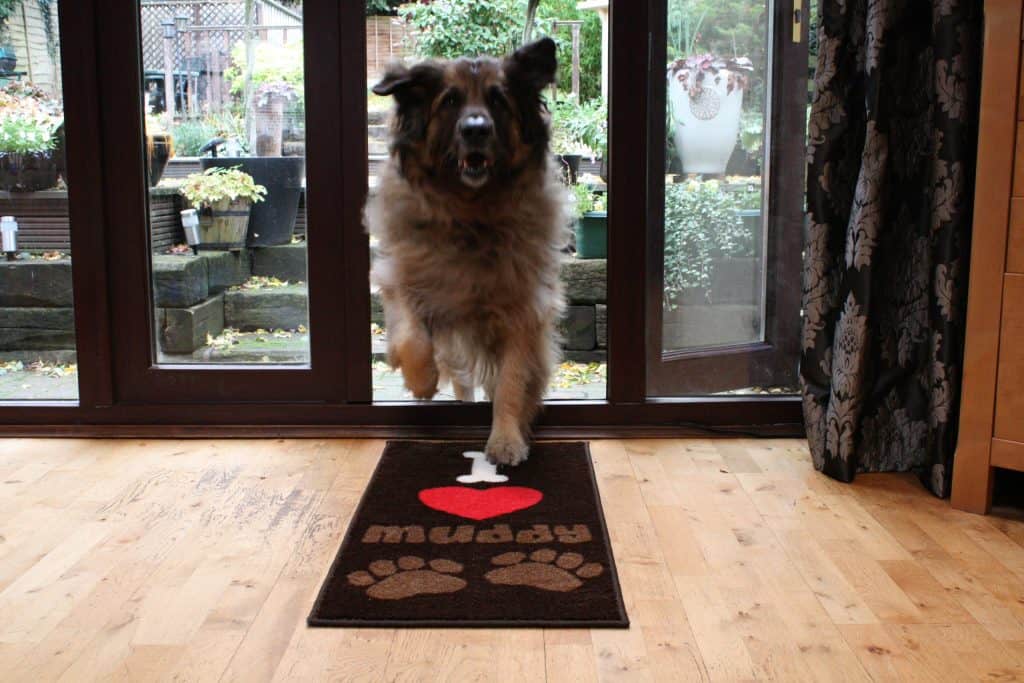 By this time, we had founded Pet Rebellion and were making Stop Muddy Paws rugs, Runners, the Boot mate and Absorbent Food Mats because it was a need we had discovered having such a big dog. He had had a few slip and trip accidents when using a towel and we knew we needed something absorbent and non-slip to use by the back door for those wet days. For those of you that have dribbling larger dogs that deposit just as much water on the floor when they drink as they actually consume, the absorbent machine washable food mat was a must! It transformed our kitchen!
And with Albert came new product designs. He was so little when I took him to puppy classes I wanted him to travel in a harness in the front of my car. My car had faux leather seats and I thought he would scratch them (or worse soil them) so I put one of our Stop Muddy Paws rugs onto the front seat. But occasionally Albert would turn around and try to jump up the back of the seat so to prevent scratching I tried to put the rug up the seat wedging it in the headrest. The weight of the rug though just made it fall down on Albert's head as we travelled so that didn't work. On describing the issue to Ray he used a bulldog clip to clip the rug up near the headrest and said 'I think I can design one to Velcro around the back of the head rest' – and so the Car Seat Carpet was born.
Now we have kids this has morphed into an Isofix version, the Slim Seat Carpet to go in between our baby seats and also a sports seat carpet for those cars with moulded headrests. We will continue to design and deliver products that help you based on your feedback.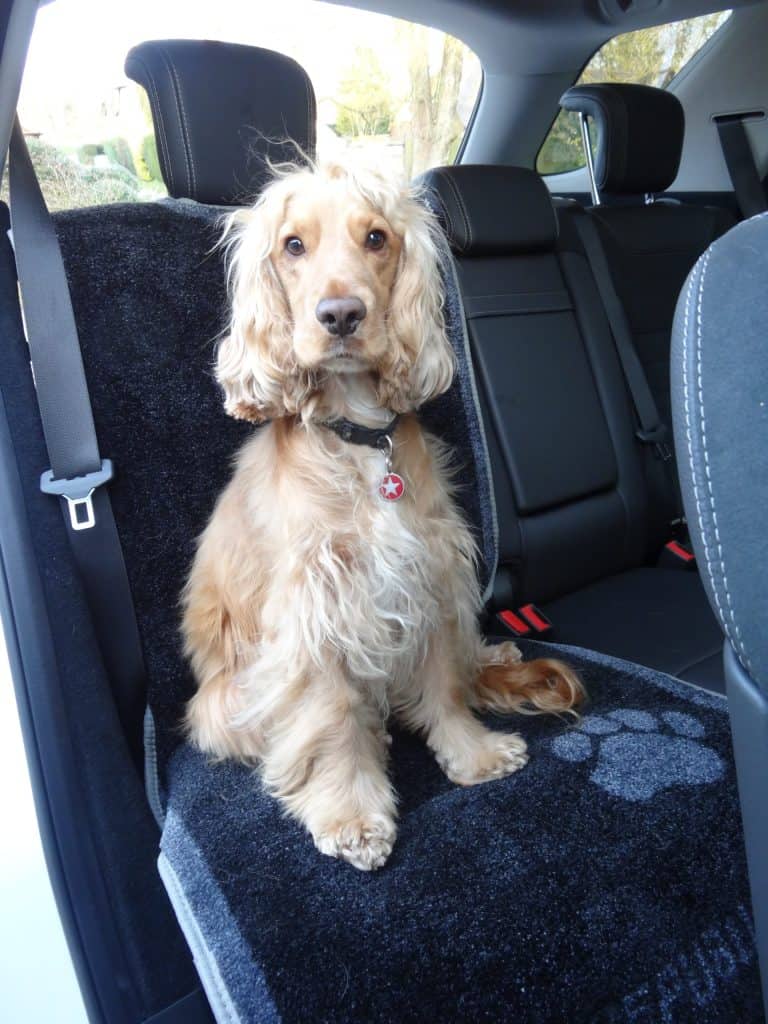 And we are proud of the business we have built that has real products made out of our real-life need for our pets, and we hope that they benefit your home too.
So watch this space as we discover together the world of having a puppy again and all the trials and delight that brings………..