How to keep your dog safe in a car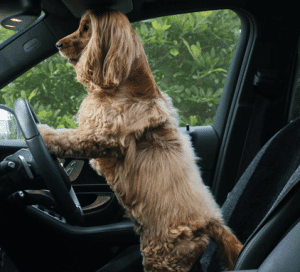 Sidney just LOVES going out in the car. He's really helpful on journeys telling us which way to go, that he's seen someone he likes outside the window and "Woof Woof – woah there Dad; you've just driven passed the park!"
There is a serious side to him travelling in the car though and often our customers like to remind us of this when we post promotional material on Facebook or Instagram. We thought It'd be useful to clarify the law and best practice according to the Department for Transport: The Highway Code and the Royal Society of Prevention of Accidents (RoSPA).
The Facts
In a car crash, an unrestrained dog could injure the passengers also travelling in the car by them being thrown forward which could injure them, and also seriously injure your dog – even endangering its life.
Vets (via the PDSA) have said that a high number of animals that they treat have been injured whilst travelling. Apparently at 30mph, a 50lb Springer Spaniel would be thrown forward with a force equivalent to a Polar Bear.
The Rules
Although drivers aren't required by law to make their pets 'belt up' it is an offence, rule 57 of the Highway Code states that "When in a vehicle, make sure that dogs or other animals are suitably restrained so they cannot distract you while you are driving or injure you if you stop quickly".
Failure to observe provisions in the Code may be used to establish liability for an offence.
Motorists can be hit with a £200 fine if police deem them to be driving without proper control due to free roaming pets.
Drivers can choose not to pay the fine, and instead take the issue to court.
However you can then be fined £2,500 if you are convicted of driving without due care and attention.
You will also find that most Insurance policies require you to retrain your pets properly.
A loose dog in the car could break the terms of your insurance and leave you with a huge bill to pay if you're in an accident. It may also invalidate your pet insurance if they are injured and need treatment.
How to keep everyone safe
A pet seatbelt will stop your dog from moving around in the car and distracting you whilst you drive. There are though lots of other products out there:

Pet Seatbelts

Seatbelt Harnesses

Crates and Carriers

Boot Barriers
(which will prevent the dog from entering the main part of the car but won't protect your pet)
The Department for Transport has worked with the Royal Society for the Prevention of Accidents (RoSPA) and the PDSA to produce an advisory leaflet, Carrying Pets Safely, which explains some of the dangers (to drivers and animals) of driving with unrestrained pets and solutions. Sidney also says it has some helpful tips for making travelling by car as safe and comfortable as possible